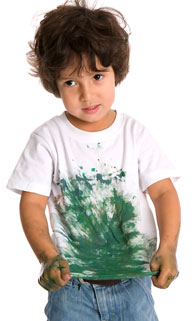 NewsUSA) – Red, orange and yellow aren't just the colors of fall, but also of some of the season's toughest stains. Throughout the United States, temperatures may be cooling off, but barbecue tailgates, backyard football and other autumn activities are just kicking into gear.

Tough stains from barbecue sauce, scrapes and tumbles can leave their ugly marks on favorite jerseys, jeans and jackets. When these stains pile up, it's time to call in the big boys of the Offensive Line like the Whirlpool brand Duet steam washer, which can wash up to 16 pair of jeans in a single load, or the Maytag Bravos washer, which offers a large 5.0 cubic foot capacity so you can toss in big loads to save time and money.

When facing heavy soils and tough laundry stains, a little pre-game strategy can help ensure that clothes come out of the washer looking their best. No matter the configuration of the washer or dryer, beat the toughest laundry room opponents with the following tips from Whirlpool's Institute of Fabric Science (www.instituteoffabricscience.com):

* Rid clothes of tough mud stains from backyard football by first allowing them to dry and then removing any excess with a soft brush. Rinse in cold water to flush out soils, and then wash in the warmest water that is safe for the garment. Air dry.

* Fumble during the tailgate? Remove barbecue sauce by rubbing liquid detergent into the stain and washing in the warmest water that is safe for the garment. Air dry.

* To beat grass stains, soak in a mixture of detergent and water before washing in the warmest water safe for the garment. Air dry.

When blood stains, mud stains and grass stains rear their ugly heads, formulate a winning playbook to get rid of these stains. With the help of the above tips, and the power packed in the newest washers and dryers, any article of dirty clothing can be back in the game.
This article is copyright free. You are free to use it on a blog, website, in a newspaper, or newsletter.
To re-post this, copy the content above, or HTML on the right, and paste onto your site.