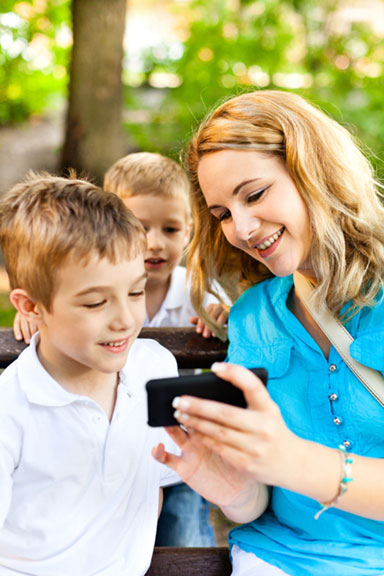 (NewsUSA) – With over 80 million moms to shop for, Mother's Day is second only to Christmas when it comes to gift giving. So, besides giving a bouquet of flowers and box of chocolates this year, try getting mom the trending gifts and tech gadgets she'll love.
If you're struggling to find the perfect gift for Mother's Day, Brett Larson, Emmy Award-winning technology and trends reporter, offers five cool gift ideas for both the tech-savvy and not-so-tech-savvy moms (and grandmas) in your life.
1. The Original Pink Box Tools. Sears has a unique and memorable gift idea for Mom, pink tools. Ranging from tool storage to accessories and tools, The Original Pink Box line, available at Sears, combines high style with high quality. It's extremely versatile and not just for DIY moms, it's great for crafters and chefs.
2. Make sure Mom's next mobile device has a Qualcomm Snapdragon processor. Battery life and performance are significant pain points for mobile users. And the processor inside can make a difference. The HTC One is an example of reshaping the smartphone experience. Qualcomm's Snapdragon processors provide seamless app switching, high-speed Web browsing, email, GPS, multimedia, console-quality gaming, social networking and 4G/LTE connectivity.
3. The Kindle Paperwhite, Kindle Fire HD 7″, Kindle Fire HD 8.9″. Amazon's Kindle Family is perfect for all moms. The Kindle Paperwhite is affordable, with a no-glare e-ink screen and built-in front light technology that allows her to read anywhere from the beach to her bed. The Kindle Fire HD has a stunning HD screen, Dolby audio speakers and Kindle FreeTime, a personalized tablet experience just for kids that allows parents to create a customized profile for each child and set daily screen limits.
4. "The Guilt Trip" Blu-Ray/DVD Combo Pack with UltraViolet. Here's another ideal gift to share with Mom, "The Guilt Trip" is packed with laughs as a mother and her son set out on a cross-country road trip. The two-disc set comes with over an hour of hilarious bonus features, including specials on Barbra Streisand and Seth Rogen, a look inside Barbra's world, an alternate opening and ending, over 10 deleted scenes and an uproarious gag reel.
5. The Cheesecake Factory. Give Mom something that will surprise and delight, a gift card or family brunch from America's favorite restaurant, The Cheesecake Factory. Gift cards can be purchased at a restaurant or ordered online and sent directly to Mom's door or an eGift card right to her e-mail. Try the Mango Key Lime Cheesecake!
For more information, visit www.killerapps.tv.
This article is copyright free. You are free to use it on a blog, website, in a newspaper, or newsletter.
To re-post this, copy the content above, or HTML on the right, and paste onto your site.