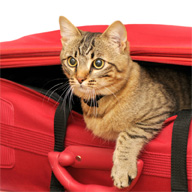 NewsUSA) – Whether you're moving across the country or without a cat sitter, you may find yourself driving with cats.

"Traveling with your cats can be a rich and rewarding experience," says family travel and lifestyles expert Lynn Hayes. "The key is doing your research, then creating and executing a plan." Hayes offers the following tips for traveling with cats:

– Plan ahead. If you are considering a road trip or flying to your destination, set aside plenty of time to prepare yourself and your feline friend for the journey. Consider how your pet has handled car travel in the past, if only on a trip to the vet. Is he or she comfortable? Do you have a crate or carrier? How long will the trip be? Will other family members or friends be along for the ride?

– Gather the gear. You'll need a collar, two leashes and an ID for your cat. A small carrier or crate will also be important — your cat can't cuddle around your feet when you need to step on the brake.

– Remember their litter. You might not think a change in your cat's litter will be a big change for your cat, but it may affect the success of your trip. To help your cat feel at home, bring along their favorite cat litter. World's Best Cat Litter fits well into your travel schedule because it is 100 percent all-natural. It is also flushable, making the disposal of litter hassle-free. For more information, visit www.worldsbestcatlitter.com.

Practice makes perfect. If your cat is not familiar with crate travel, consider placing the crate in your home for a few weeks before your departure. Leave the door open, and occasionally toss in a treat or two. Sooner or later, your cat will view the spot as a comfortable retreat.

Take the same approach with a leash, if that is not part of your regular routine. Also, consider taking test drives to evaluate how your cat handles the situation. Don't forget to secure the carrier with a seat belt or other restraining method to avoid slipping and sliding within the car.

– Safety first. Be sure your cat's identification is firmly attached. Make sure vaccinations are up to date and any necessary medications are packed for the trip. Consider bringing along your cat's medical records, particularly if you are crossing state lines. Remember that hot cars can quickly become dangerous for small animals — don't leave your pet unattended.
This article is copyright free. You are free to use it on a blog, website, in a newspaper, or newsletter.
To re-post this, copy the content above, or HTML on the right, and paste onto your site.