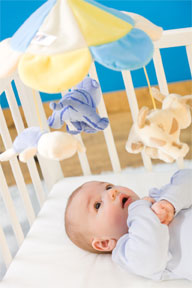 NewsUSA) – Preparing for a new baby is an exciting time in a couple's lives. And while baby-proofing electrical outlets and cabinets might seem tedious, no one ever complains about designing a new nursery.

From teddy bear wall paper to ballerina cotton sheets, nurseries allow for more fun and whimsical designs than any other room in the house. But your baby won't be small for long — before you know it, your bundle of joy will be crawling, climbing and toddling about.

If you love redecorating, you might want to change your child's room as he or she grows. If your child will be sharing a room, or you plan on keeping one design for more than a few years, you should make decisions with the future in mind.

Pottery Barn Kids offers the following tips for parents starting to design new nurseries:

* First and foremost, make sure that your baby's room is safe. Choose furniture, bedding and accessories that meet or exceed U.S. safety regulations. Don't place the crib near a window, and keep drapery and blind cords well out of the baby's reach. Cover all electrical outlets.

* Design for function and beauty. Caring for a new baby is harrowing enough on its own — make your life easier by choosing changing tables with built-in drawers or shelves, storage options that are easily accessible, and machine-washable bedding and changing-table covers.

* Find bedding that you love, and design your nursery around it. Pick a light, medium and dark shade from the bedding, and use them throughout the room. Consider how long your design will be appropriate for your child. Two years? Longer? Think about color and pattern themes that will last through early childhood.

* Go organic. You are going to spend a lot of time washing your baby's bedding, so choose three to four fitted sheets to keep in constant rotation. Organic cotton bedding is both eco- and baby-friendly, as the cotton is grown without toxins or pesticides. Pottery Barn Kids offers 100 percent organic bedding.

* Add those special touches. Put photos on display, or spell out your baby's name on the wall. Decorate with handprints or footprints and plush toys, or paint a mural. You don't want to use all of these examples — the nursery would look too crowded — but two or three will make your nursery feel like home.

For more tips on decorating your nursery, visit the Web site www.potterybarnkids.com.
This article is copyright free. You are free to use it on a blog, website, in a newspaper, or newsletter.
To re-post this, copy the content above, or HTML on the right, and paste onto your site.