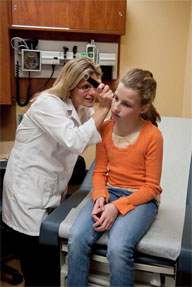 NewsUSA) – Cold weather is in the rear-view mirror, and families across the country are gearing up to get active outdoors. With the threat of cabin fever waning, now is the time to get familiar with a few helpful tips to ensure a safe and stress-free season for the entire family:

* Avoid insect and tick bites. Bug bites can be dangerous, so take precautions, such as wearing insect repellent, tucking pants into socks or shoes when hiking in the woods and staying in the middle of trails to avoid overhanging branches. Avoid scented soaps and lotions that can attract bugs.

* Always wear sunblock. Limit exposure to the sun, especially between 10 a.m. and 4 p.m., when sun rays are at their strongest. Use sunblock that offers UVA and UVB protection with an SPF of 15 or higher. Apply sunblock 15 to 30 minutes before going out in the sun, and reapply it every two hours or after swimming, sweating or towel-drying.

* Avoid heat stress and heat stroke. It's easy to get caught up in the fun of outdoor activities, but in extreme heat conditions it's important to not push beyond your physical limits. Drink plenty of water to avoid dehydration and be on alert for symptoms of heat stress and heat stroke, such as thirst, cramps, fatigue, dizziness, nausea, vomiting and fever.

* Get your physical. If children are planning on participating in camp or sports over the summer, it's important that they have a physical exam to ensure they're physically ready to be active. Take Care Clinics, professional walk-in health care clinics located at select Walgreens across the country, are now offering sport and camp physicals for just $35 through September 2010.

A sports or camp physical is a perfect opportunity to interact with a trusted health care professional. Take Care Clinics are a convenient option for parents with busy schedules, as these clinics are open seven days a week and on weeknights, and don't require appointments.

* Use your best judgment and take the appropriate precautions. If an accident does occur, seek treatment from a health care professional. Take Care Clinics can be a great resource for high-quality, affordable and convenient care for everyday illnesses, minor injuries like splinters, sprains and strains, and treatment for an expanding range of skin conditions including sunburn, tick and other insect bites, poison ivy, wart removal and more.

To find a clinic near you, visit TakeCareHealth.com or call

1-866-Take-Care (1-866-825-3227). High-school and middle-school level, pre-participation sports physicals are not available at Take Care Clinics in Kansas.
This article is copyright free. You are free to use it on a blog, website, in a newspaper, or newsletter.
To re-post this, copy the content above, or HTML on the right, and paste onto your site.