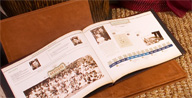 NewsUSA) – The holidays are here again, bringing families together for egg nog, cookies and holiday merriment. And while you may enjoy seeing your family, their visits bring stress — what in the world are you going to give them this year?

Clothes, music and gift cards will be halfway forgotten by New Year's Eve, and you don't have an enormous budget to work with. But don't despair! Ancestry.com offers these ideas for family-centric gifts, which more truly celebrate the meaning of the season:

* Consider creating a personalized family history book on Ancestry.com. Your family will, no doubt, treasure a beautifully bound book chronicling the lives of your family members and documenting your family heritage. Scan old family photographs and documents for your book. Create a free family tree online, and then import your family tree into your book.

* Give a family member a DNA kit. The mystery buffs in your family will love the thrill of a DNA kit, which will allow them to discover their ancient ancestry. Through a simple cheek swab DNA test, they can connect with distant genetic cousins and learn the story of their genetic past.

* Make sure that everyone can recreate Grandma's cookies. Family recipe books are a great way to organize all of those favorite family recipes. Create a personalized family recipe book, including Uncle George's apple cider donuts and Aunt Shirley's hummingbird cake. Dress it up with family photographs and fun memories and stories.

* Ensure no one forgets family anniversaries and birthdays. Does your family have heaps of birthdays, anniversaries and other special occasions to keep track of? If so, a family calendar is a perfect holiday gift. Design a simple family calendar adorned with photographs and embellishments, and include all of those important events in one calendar for the whole family.

* Help your family historian chronicle your family's past. For those in your family who enjoy history, or even for that family member who has everything, think about getting them a subscription to Ancestry.com, which gives them access to billions of historical records.

To create or order any of these family-focused gift ideas, or to learn more about your family history, visit www.ancestry.com.
This article is copyright free. You are free to use it on a blog, website, in a newspaper, or newsletter.
To re-post this, copy the content above, or HTML on the right, and paste onto your site.