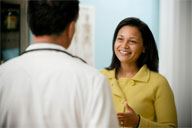 NewsUSA) – During these tough economic times, as America continues to look at cost cutting options, many people will be shopping for a health insurance plan. It's important to know that there are health plans that are affordable and are a fit for you and your family while still offering the coverage you need to protect your family.

Know your needs. What types of coverage are most important to you? Do you or a family member take a prescription regularly? Knowing how much coverage you need is important when deciding which health care plan is best.

Learn the lingo. Some insurers are working to use more consumer-friendly language. Learning how a high-deductible plan tied to a health savings account (HSA) that offers choice among physicians and hospitals and how it works best with your needs, is important.

Availability when you need it most. Many insurers are working hard to ensure customers have health-related information when they need it, such as:

* Use of understandable consumer-friendly language

* Access to customer call centers and nurse hotlines 24/7, 365 days a year, giving constant access to a nurse or person to help solve a claims issue

* Online tools to search for claims information and check for benefit qualifications, co-pays, and deductibles

* Tools to compare prices on the drugs you need, helping find the best prices available

Schedule that yearly appointment. Regular checkups can help prevent potential problems or catch conditions early, saving money.

Note to editors: The following states may find this story useful: CA, CO, AZ, TX, TN, FL, GA, NC, CT, SC

Look for "extras." Many insurers offer discounts for programs such as smoking cessation, weight loss, fitness club memberships and other services already being used by an individual.

Quality matters. Feel confident about choosing the right individual plan for you. Check out report cards for different plans on the National Committee for Quality Assurance's Web site, available at http://reportcard.ncqa.org/plan/external/plansearch.aspx.

For information about individual health products from CIGNA, visit www.cignaforyou.com/hctips.
This article is copyright free. You are free to use it on a blog, website, in a newspaper, or newsletter.
To re-post this, copy the content above, or HTML on the right, and paste onto your site.