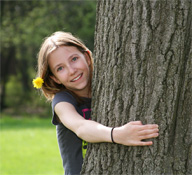 NewsUSA) – Perhaps more so than many adults, tweens worry about global warming and pollution. Now, many of these youth are ready to bring change to their families, schools and communities.

According to a recent Boys & Girls Clubs of America (BGCA) and Staples Foundation for Learning (SFFL) survey of more than 1,200 youths, ages 11-13, 92 percent of tweens said they are "very concerned" or "somewhat concerned" about the environment. Nearly half recycle or reuse their food and drink containers, and 40 percent would watch less television and play fewer video games to save energy.

One example, Florida's Edgewater Boys & Girls Club Torch Club, was named a winner of the "Be Great. Be Green" National Project Award for the Club's efforts to educate members about environmental stewardship and sustainability of resources, while also motivating neighbors to take action. Awarded by BGCA and SFFL, the national award is designed to raise awareness about environmental issues and motivate youth, educators and parents to take action.

"We all know how important it is to protect our country's natural resources so they can be enjoyed for generations to come," said Camille Winbush, an actress best known for her roles on "The Secret Life of An American Teenager" and "The Bernie Mac Show," and a judge of the "Be Great, Be Green" award. "When youth are educated about environmental issues, they become involved in their communities and are able to make big changes."

Along with SFFL, BGCA wants parents, educators and children to take a tiny green step by being on the lookout for green office and school supplies throughout the year:

* Recycled pencils. The good old No. 2 isn't going anywhere anytime soon, but now you can find recycled pencils. Made from some of the billions of scrapped tires in stockpiles today, the RENEW Recycled Tire Pencil's casing is made from 30 percent recycled tires. With a No. 2 graphite core, the pencil also contains bio-degradable latex-free erasers.

* Eco-friendly pens. If you're more of a pen person, be on the lookout for recycled and biodegradable versions by Pilot or Industries of the Blind.

* Re-binders. No student can get through the school year without a binder. Recycled binders from Re-Binder are not only eco-friendly, but sturdy and cheap.

For more information, visit www.staplesfoundation.org and www.bgca.org.
This article is copyright free. You are free to use it on a blog, website, in a newspaper, or newsletter.
To re-post this, copy the content above, or HTML on the right, and paste onto your site.