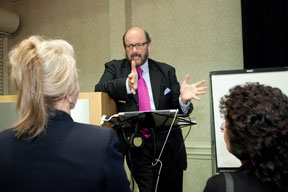 (NewsUSA) – In business, there is a new mantra — "Shift happens." For example, what would you do with a railroad boxcar full of ChefBoyardee pasta sauce?"You just spent $5,000, which you did not have, to purchase something you did not need, in a boxcar you could not move. And you think you have problems?" recounts Jim Feldman, keynote speaker, ongoing entrepreneur and author of "Shift Happens: No Job, No Money, Now What?"This is one of many unpredictable "You did what?" kinds of scenarios you can expect from the book by Feldman, a person who turned his first profit at the tender age of seven, realizing that critical thinking and problem solving weren't just for grade school."One of the first things I tell an audience at my speaking engagements is, if you want off-the-shelf training, I'm not your guy. I'm going to shake things up and make you uncomfortable," says Feldman.Feldman believes this same concept of pushing the envelope, overcoming challenges and embracing reinvention also applies to personal growth — and this is reflected in his book."This book is written as a kick-starter, a mind-stretcher, a sweaty palms and high colonic for your business and personal life. It is not for the faint of heart or those who won't step out of their comfort zones or get off of their pity porches," Feldman writes early on, noting that his no-nonsense approach may have you cursing him one page and admiring him the next.Regardless, you'll step out of the narrow box telling you what you think you should do, and you'll grow. Take this kick-in-the-butt advice for example:* Shift your attitude. Stop whining. Stop complaining. Stop making excuses. Stop "should-ing."* Let go of uncertainty. Fear makes for lousy decisions.* Act like a child. That means stop doing what you don't like, and make yourself happy.* Constantly re-evaluate relationships, priorities and goals.Feldman likens his book to buying a hammer at a hardware store; he'll give you the tools, but what you do about it is up to you.Business moguls like James Dyson and Steve Jobs make change look easy. Dyson took the bag out of the vacuum and the blade out of the fan, creating two markets that can't live without Dyson as a brand or product. Jobs founded a tech dynasty on sheer foresight. Feldman knows that change can be as hard as a box of nails. But he makes it accessible.Remember the boxcar of pasta sauce? Feldman sold it back to the manufacturer for eight times his investment. Learn more about Feldman at www.shifthappens.com, or find him on Facebook and Twitter.
This article is copyright free. You are free to use it on a blog, website, in a newspaper, or newsletter.
To re-post this, copy the content above, or HTML on the right, and paste onto your site.