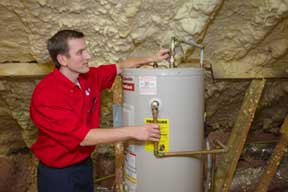 (NewsUSA) – In less than two months, new water heater efficiency standards will take effect and may end up hitting homeowners with an unexpected (and costly) expense.
To grasp the coming regulations, as imposed by the U.S. Department of Energy (DOE), homeowners need to understand the impetus behind it — which is that, according to the DOE, by replacing residential water heaters, pool heaters and direct heating equipment, consumers will save up to $10 billion and prevent the release of up to 164 million metric tons of carbon dioxide over 30 years.
"These energy-conserving appliance standards are a critical part of the Administration's overall efforts to save energy in homes and businesses nationwide," said former DOE Secretary Steven Chu. "By raising the energy efficiency requirements of our every-day appliances, we will save money for American families and companies, reduce carbon pollu-tion, and enhance our energy security for decades to come."
While no one is arguing the benefits of going green, the down side is the upfront cost to the consumer.
"Our customers could face price increases of up to 15 percent to 35 percent," said Mary Kennedy Thompson, president of Mr. Rooter Plumbing. "Not only will the cost of water heaters increase an average of $120, but installation and maintenance costs will likely rise as well. As a result of new regulations that require a more complicated installation and increased amount of system parts necessary, homeowners could face a hefty replacement fee in the short run."
The added expense, says Thompson, comes in the form of the larger size of the new water heater units. Electric hot water heaters larger than 55 gallons — the minimum required for most residential homes — will require a minimum of 128 cu. ft. with a duct to a larger space in order to comply with the new standards. This means that homeowners will have the added burden of not only replacing a water heater, but potentially also undergoing a major renovation involving construction.
To combat a potentially high-priced situation, homeowners should consider checking the age of their hot water heaters. If they are getting close to the 10-year mark, they can be replaced before the new regulations take effect.
For more information on the right plan for your home, visit www.MrRooter.com.
This article is copyright free. You are free to use it on a blog, website, in a newspaper, or newsletter.
To re-post this, copy the content above, or HTML on the right, and paste onto your site.