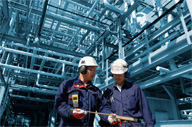 NewsUSA) – Having pushed its way to the forefront of the national news, the green movement and energy debate have set into motion ambitious initiatives and programs, ranging from the increased use of electric vehicles to the further development of bio-fuels for electric power generation. Now, joining in on the movement are America's engineers.

The American Society of Mechanical Engineers (ASME), in collaboration with IEEE-USA, developed a "National Energy Policy Goals Proclamation" outlining critical national energy priorities that the two societies would like to see implemented by Congress within the upcoming years.

Considered by many to be on the frontlines for a response to the nation's energy challenges, the engineering industry rose to the occasion in overwhelming support of this proclamation. In total, 21 engineering societies, representing more than 1 million engineers, embraced the proclamation's message.

One of the top messages that the proclamation pushes is for the modernization of the nation's electric transmission grid. "The electric grid that exists in the country today has served the country

well for decades, but a redesigned and re-engineered system is needed that builds on the grid that is in place and makes use of the most advanced control technology available. It must support bringing electricity generated by new sustainable, economic and environmentally acceptable technologies to load centers around the country."

While many groups call for abandoning all nonrenewable resources, engineers know that it's not that easy. Engineers want to find eco-friendly energy sources, like biomass, solar and wind power. The proclamation emphasizes drawing energy from a broad range of sources, including coal, petroleum, nuclear, natural gas, solar, wind, geothermal, biomass and hydroelectric power.

By creating concise, effective measures to adapt to climate change through carbon mitigation, the proclamation aims to provide a long-term commitment to energy research, development and demonstration.

ASME has many members who work in the energy sector, and during the 129-year existence of the organization, it has been a source of new ideas and knowledge. As such, ASME is a credible and trusted player in the energy industry. For more information, visit www.asme.org.
This article is copyright free. You are free to use it on a blog, website, in a newspaper, or newsletter.
To re-post this, copy the content above, or HTML on the right, and paste onto your site.