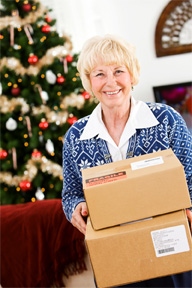 (NewsUSA) – Finding the perfect gift is a pleasure, but shipping it can be a hassle. You want your gift to arrive in one piece, but sometimes the perfect gift is oddly shaped or overlarge, making it difficult to pack for shipping. You want your gift to arrive on time, and with everyone mailing packages this time of year, you're not sure how late is too late to avoid rushed shipping fees.
If you're one of the many people shipping gifts this holiday season, know that there's no need to worry. Pak Mail (www.pakmail.com), full-service packing and shipping centers with locations locally and worldwide, knows all the latest packaging requirements and holiday shipping deadlines that will get your gifts to their destinations safely and on time. Pak Mail offers the following tips:
* Ship your gifts early. Packages going overseas to the military should be mailed no later than Friday, November 12. Parcel Post to destinations within the United States should be mailed no later than the second week of December. Send Priority Mail by the third week of December and Express Mail by the 22nd of December. If you are traveling over the holidays, try shipping gifts ahead to your destination to avoid enhanced security and baggage fees at the airport.
* Pay attention to size restrictions. UPS, FedEx Ground and DHL set a maximum of 165 inches in length and girth and 150 pounds. The U.S. Post Office allows a maximum of 130 inches in in length and girth and a maximum weight of 70 pounds. Pak Mail enforces no size or weight restrictions. Try consolidating your gifts. One 20-pound box costs less to ship than two 10-pound boxes.
* Pack your gifts properly. Always use proper packing materials like bubble wrap and peanuts, and use tape that is designed for shipping, such as pressure-sensitive tape or nylon-reinforced tape. Put the delivery and return addresses on only one side of the package. Enclose an extra address label inside the package that contains the sender's address and the recipient's address along with a list of the contents. That way, if the package is damaged, it can be repackaged and sent to its final destination. If your gift is especially fragile, large or oddly-shaped, think about custom packaging.
* Get the best deal. Different carriers offer different rates. Pak Mail uses a variety of carriers to offer customers options when it comes to finding the most economical and efficient gift shipping solution.
For more information, call Pak Mail at 1-800-778-6665 or visit www.pakmail.com.
This article is copyright free. You are free to use it on a blog, website, in a newspaper, or newsletter.
To re-post this, copy the content above, or HTML on the right, and paste onto your site.