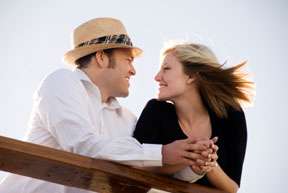 (NewsUSA) – Booking a cruise is exhilarating, preparing for a cruise is exciting but finding the perfect bathing suit is laced with a different kind of anticipation.There's a lot of pressure involved when women have to find a suit that's flattering, cute and comfortable. Unfortunately, it's a tall clothing order to fill, and the industry is poorly equipped to meet the needs of real women.However, packing for a cruise vacation is far less stressful when ladies can count on their Girltrunks. What are Girltrunks, you ask? Don't blush if you've never heard of them, but please expand your swimsuit horizons.Girltrunks, designed by Debbie Kuhn, dove onto the scene in 2009 to add some comfort and versatility to the world of limited bathing suit options.For the many women who don't fit into clingy one-pieces or revealing bikinis, Girltrunks are a stylish alternative. Kuhn paired tankini-styled tops with tailored swim trunks to create a comfortable yet fashionable look for real women.While this swimsuit is great for any water excursion, it's the ultimate choice for cruise vacations. When suitcase space is slim, and every outfit must work in multiple scenarios, Girltrunks are ideal. They are made from a quickly drying fabric, and they come in sizes 4-24 for all the women who aren't sized like Goldie Locks.Girltrunks are the only swimsuit choice that provide leg coverage for women — with shorts in two different lengths and two different styles of tops. Ladies don't need sarongs, skirts or cover-up sundresses.This outfit works for swimming, snorkeling, lounging, various sports and any other cruise activities. Thanks to Kuhn, a real woman considering the desires and insecurities of other real women, girls of all ages can enjoy swimming events without being embarrassed of naturally thick thighs or not-so-flat stomachs."I felt so liberated, in swimwear of all things, and I wanted to share that feeling with other women," says Kuhn after she found her clothing gem.Visit mygirltrunks.com to learn more.
This article is copyright free. You are free to use it on a blog, website, in a newspaper, or newsletter.
To re-post this, copy the content above, or HTML on the right, and paste onto your site.