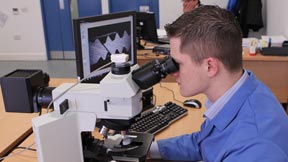 (NewsUSA) – "Innovation" is a term companies use quite often. While many companies are quick to brand themselves as inventive, very few have the legacy and pioneering spirit to be truly innovative. But occasionally, a few great companies manage to prove their claims of innovation by successfully extending core technologies into new fields and applications.
You may be grasping at air when you try to explain valve and sensing technologies to a friend. While many don't see or interact with these technologies on a daily basis, they are utilized in applications that many customers and end-users use each and every day -; and the roles these technologies play in your everyday safety and comfort shouldn't go unnoticed. One such valve and sensing technology manufacturer, Schrader, takes innovation seriously.
"Since 1891, our valve and sensing technology has played a critical safety role within global automotive applications. We invented the first pneumatic tire valve, the very same valve used on every vehicle in the world today. More recently, we pioneered tire pressure monitoring systems (TPMS), now required on all new vehicles in North America, and growing in European and Asian-Pacific countries," says Paul Wise, director of marketing at Schrader. "However, what differentiates Schrader is our ability to extend these foundational technologies to new markets and applications."
For example, Schrader has been successful in adapting its sensor technology to monitor power transmission belts and industrial hoses, which are found in diverse applications for factory equipment, construction, agriculture, robotics and other markets as well.
"Many of these applications are considered 'capital equipment,' meaning when the piece of equipment is down because of a broken belt or a burst hose, it translates to a real operational cost to owners," said Enda McCloskey, vice president of technology, Schrader. "Our new belt and hose monitoring systems remove the guess work about when to perform critical maintenance."
Schrader valve and sensing technology within automotive applications helps to save lives, reduce fuel costs, and reduce environmental impact via TPMS. Additionally, Schrader's continued history of innovation has resulted in an all-electric way to better measure fuel levels in gas tanks as well as new flex fuel sensors for hybrid vehicles — its technology has even expanded to the medical field, including oxygen monitoring for hospital and patient environments.
For more information, visit www.schraderinternational.com.
This article is copyright free. You are free to use it on a blog, website, in a newspaper, or newsletter.
To re-post this, copy the content above, or HTML on the right, and paste onto your site.