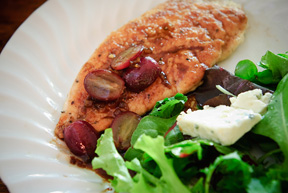 (NewsUSA) – Elegant entertaining is easy with help from Wini Moranville, author of "The Bonne Femme Cookbook." The title, meaning "the good wife" in French, refers to fresh and delicious cuisine served at home, no matter who does the cooking. Breeze through the hectic holiday season with a touch of French flair by following these simple suggestions.Welcome guests with bowls of salted almonds and olives. Add a touch of vintage glamour with a classic cocktail like the Sidecar, made with Cognac, fresh lemon juice and triple sec. Moranville's time-saving tip: whip up a pitcher of drinks before friends arrive. Landy Cognac V.S. has delightful floral and orange aromas. From renowned spirits producer Cognac-Ferrand, its friendly price is also easy on the budget.Create a show-stopping yet fuss-free course for the main event. Even Julia Child would approve of the updated classic French dish, Chicken Véronique — chicken breasts with grapes in a white wine sauce. Wondering which wine to use? Ch?teau Bonnet Blanc, a crisp, dry Sauvignon Blanc blend from Bordeaux, works beautifully in recipes, and you can enjoy the rest of the bottle with dinner.For more tips and recipes, visit chezbonnefemme.com. Chicken VéroniqueServes 44 boneless skinless chicken breast halvesSalt and freshly ground black pepper1/4 cup flour2 tablespoons unsalted butter1 tablespoon olive oil2 garlic cloves, minced3/4 cup low-sodium chicken broth3/4 cup dry white wine1 tablespoon balsamic vinegar1 tablespoon honey1 cup seedless red grapes, halved 1. Place each chicken breast between sheets of plastic wrap, pound until 1/4 inch thick. Season both sides with salt and pepper; dredge in flour, shake off excess.2. In large skillet, melt 1 T. of butter and heat olive oil over medium-high heat. Add chicken, cook for 6 to 8 minutes, or until no longer pink inside, turning once (reduce heat if chicken browns too quickly). Transfer chicken to platter; cover with foil, keep warm.3. Add garlic to skillet; sauté briefly. Carefully add chicken broth, white wine, balsamic vinegar. Boil until liquid reduces to 1/2 cup. Whisk in honey. Whisk in 1 tablespoon of butter until melted. Sauce should be slightly syrupy (boil a little longer if not).Add grapes and heat through.To serve, spoon grapes and sauce over chicken.
This article is copyright free. You are free to use it on a blog, website, in a newspaper, or newsletter.
To re-post this, copy the content above, or HTML on the right, and paste onto your site.