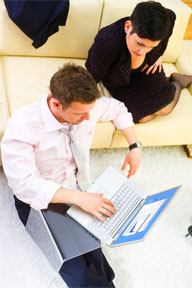 NewsUSA) – The majority of U.S. homes today have at least one computer, and perhaps an MP3 player, digital camera or camcorder to go with it.

It's staggering to think how much of our lives are digital: music, photos, movies, e-mail and legal or financial documents. With so much vital information stored electronically, it becomes increasingly important to keep it all safe.

So, how do you protect your digital assets without becoming a computer geek? Simple:

Step 1: Know where your data are located. Maybe you have a few photos still on a digital camera, some music on the laptop at work and more files on a home computer. Before making another move, take stock of everything electronic that's important to you (including bills, bank statements and memories) and, preferably, move it to one device.

Step 2: Choose a second location to store backups. The one place you will likely choose to store all of your digital files is your main computer. That solves the first problem of being able to find it all quickly. Now, you have to make sure the information is safe from harm.

This means storing it in two locations – or backing up that digital data to another device – so if your computer gets a virus or crashes, you still have it all handy.

For this, consider purchasing an external disk drive with 320GB – more storage than on many home computers – for less than $100. Available at electronics stores, these plug into laptops and computers and appear as another drive under "My Computer."

Step 3: Time to move your data. You know where your digital files are, and where the copies are going (an external drive), so how do they get there? You could copy each file manually, or install backup software that does it automatically. One program is Acronis True Image Home (http://www.acronis.com/newsusa1).

Timed to a weekly or daily schedule that you set, backup software can create a snapshot of your entire computer, including all applications and files, and put that snapshot on another device of your choosing. If something happens, you can restore your entire disk drive and digital assets in minutes, not hours or days.

Computers can be replaced, but the digital memories on them aren't always replaceable. Backing up is the best choice for keeping them safe, be they photos, music or documents.
This article is copyright free. You are free to use it on a blog, website, in a newspaper, or newsletter.
To re-post this, copy the content above, or HTML on the right, and paste onto your site.