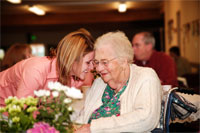 NewsUSA) – The holiday season is a time to get together with your loved ones, reflect the past and celebrate current joys. But while enjoying your family's company and traditions, you might also want to consider the future. Have you made end-of-life plans? Is your family protected should something happen to you?

Drafting a will means extending protection to your loved ones. Clearly stating who gets what helps limit arguing and confusion after a death. Without a will, you cannot control where your assets go.

And you do have assets. Many Americans might not think they hold enough wealth to merit writing a will. But most people, among cars, homes, furniture, investment portfolios and personal items, will find themselves worth more money than they originally think. Sentimental value cannot be dismissed. The teacups that belonged to your grandmother might not fetch a large sum at auction, but maybe your daughter associates them with happy memories.

Drawing a will can be complicated. But some programs can help simplify the process. For example, The Estate Vault (www.estatevault.com), a software-based system, helps users consolidate all of their personal information into one, easy-to-access location. From car titles to pets' vaccinations to personal medical histories to credit card accounts, The Estate Vault allows people to list their assets, expenses and wishes. Users can upload their information to a secure Web site, keep their data on their home computer or burn their files onto CDs, which can then be distributed to loved ones.

The Estate Vault not only helps with end-of-life planning, but also with day-to-day living. The system connects with 13,000 North American banks and credit unions, credit card companies, brokerage firms and mutual funds, ensuring that transactions and bank account information are always up to date.

For more information about The Estate Vault system, visit www.estatevault.com. Estate Vault trades on the NASDAQ OTC under the symbol TEVI.
This article is copyright free. You are free to use it on a blog, website, in a newspaper, or newsletter.
To re-post this, copy the content above, or HTML on the right, and paste onto your site.