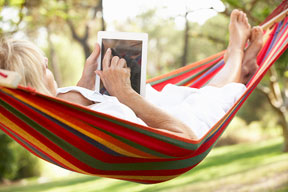 NewsUSA) – Organizing personal documents can seem impossible -; among credit cards, bank accounts, mortgages and living wills, the average person leaves quite a paper trail.

Most agree that keeping track of individual expenses, assets and medical histories proves important, but few families keep massive filing systems in their homes. Important documents find themselves stuffed in manila folders, closets and shoe boxes, where finding anything specific can become an epic task.

But services exist to help the unorganized. Banks allow customers to consolidate their bill-paying online. Likewise, one company, The Estate Vault, allows users to consolidate everything from their wills to their pets' medical histories to their financial information.

Users can access their organized personal information with just a few clicks. They can create CDs that contain important information about wills and assets and give them to their loved ones in case of an emergency.

But The Estate Vault doesn't just help users plan their estates. The system also gives its users the tools they need to plan their finances and prepare for doctor visits.

The Estate Vault offers account aggregation, tools to track credit information and financial calculators that help users budget, save or plan for retirement. Because The Estate Vault compiles clients' assets, liabilities and financial portfolios, each user knows their complete net worth.

Users can store their medical information online, which can be useful when visiting a new specialist. The Estate Vault also keeps legal documents safe and easy to access.

The Estate Vault stores its data in a building owned by Primus Telecommunications Canada, which has won awards for its support systems. Customers can choose to keep their information on a secure Web site, on their home computers, on a CD or USB device or in any combination of those locations.

To learn more, visit www.estatevault.com. The Estate Vault trades on the NASDAQ OTC under the symbol TEVI.
This article is copyright free. You are free to use it on a blog, website, in a newspaper, or newsletter.
To re-post this, copy the content above, or HTML on the right, and paste onto your site.