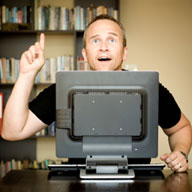 NewsUSA) – If you still have dial-up or are considering it, guess what? You are not alone. In fact, about 25 percent of Americans find dial-up to be a cost-effective and dependable consumer connection to the Internet.

A 2007 study by Pew Internet Research indicated that dial-up remains a strong player in the market. Among the prominent dial-up Internet service providers is LocalNet, who have been in business since 1994. It joins other recognizable ISP's such as Earthlink, NetZero and AOL.

"Consumers who stay with dial-up or who are new Internet users enjoy having an attractive option, such as LocalNet, which is affordable, reliable and gets users the information that they want," said Marc P. Silvestri, founder and president of LocalNet, the largest privately held Internet service provider in the U.S.

The Pew data show that 90 percent of dial-up users connect for e-mail, 80 percent to research hobbies and interests, and 60 percent for news.

Silvestri explained that dial-up subscribers appreciate the abundant benefits they receive at a cost that is usually substantially lower than DSL or cable.

"LocalNet succeeds because we provide all of the advantages of dial-up such as multiple e-mail accounts, easy access, and reliable service while keeping our monthly fee low," he said.

LocalNet has had a monthly fee of $9.95 for 10 years, longer than any other dial-up provider. Their subscribers represent a cross section of consumers looking for a cost-effective way to get online. The service is also popular among those residing in vacation homes for a portion of the year, people living in rural areas, people who are new to the Internet, retirees and travelers.

To connect with dial-up, subscribers need a computer with a modem and a phone line. They dial a local phone number and connect to the network of their provider.

"LocalNet has 10,000 dial-in numbers throughout the continental U.S. and Hawaii to ensure their subscribers get online quickly," Silvestri said.

He indicated that LocalNet's record of growth is just one sign that dial-up remains relevant. LocalNet (www.localnet.com) has realized a 150 percent increase in subscribers since 2003, to a base that is now more than 260,000.
This article is copyright free. You are free to use it on a blog, website, in a newspaper, or newsletter.
To re-post this, copy the content above, or HTML on the right, and paste onto your site.