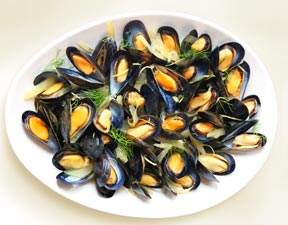 (NewsUSA) – Did you know that when it comes to seafood, freshness is consistently rated as one of the most important qualities customers are looking for? That's just one reason mussels are growing in popularity across the U.S.When it comes to freshness, Prince Edward Island (PEI) mussels from Canada are hard to beat. The tasty and nutritious shellfish are sold live at the store — you literally can't get them any fresher.You can also buy them fresh at your grocery store all year round. Gone are the days of so-callled mussel season. The journey that a PEI mussel makes from farm to seafood counter is remarkable.In the winter, it's a job for the hardiest men and women. Bundled up to protect themselves from the harsh ocean winds, they use GPS devices and brightly colored poles in the ice to mark the mussel farm underneath. Crew members must then work quickly to cut holes in the ice, which can be four feet deep, so a diver can descend into the frigid waters.The crew haul up the mussels and transfer them to insulated containers, where they will be cleaned, sized, inspected and loaded into bags for shipping.It's well worth the effort. You can feel good about serving your family fresh sustainable seafood. They are ideal for people who aim to eat high-quality, unprocessed foods: they are all-natural sources of lean protein, vitamins, minerals and omega-3 fatty acids. They are also low in saturated fats, cholesterol and calories, and gluten-free.To learn more about PEI mussels, visit discovermussels.com.MUSSELS WITH SHAVED FENNEL & SAFFRON5 pounds fresh PEI mussels1 fennel bulb, diced2 tablespoons butter1 tablespoon olive oil1 onion, sliced3 cloves garlic, sliced1 pinch saffron1 bay leafsea salt flakes and cracked pepper1 cup white wine1 lemon, zest and juicecrusty breadRinse fresh PEI mussels in a colander, tap any that remain open. Discard any that remain open. Set aside. Trim fennel stalks. Reserve fennel fronds for garnish. Finely slice fennel into thin strands.Melt 1 tablespoon of butter and olive oil in a large pan. Add fennel, onion and garlic and sauté over medium-low heat for 10 minutes, or until soft.Stir in saffron, bay leaf, salt and pepper. Turn up the heat to medium-high. Add wine and remaining butter; stir adding mussels. Cover and leave to steam for 5 minutes or until mussels have opened.Toss everything together with lemon zest and juice. Top with reserved fennel fronds. Serve with crusty bread.
This article is copyright free. You are free to use it on a blog, website, in a newspaper, or newsletter.
To re-post this, copy the content above, or HTML on the right, and paste onto your site.