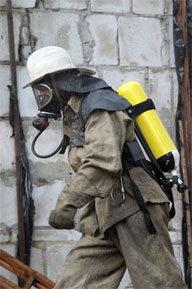 NewsUSA) – When disaster strikes, the American Red Cross acts, responding to over 70,000 disasters – fires, hurricanes, chemical spills, explosions, earthquakes, mud slides, tornadoes, transportation accidents – each year.

The Red Cross fulfills people's needs during such emergencies. The agency provides food, shelter and mental and physical health care for disaster victims. It runs blood drives, feeds volunteers, helps victims pay for basic needs and reunites separated families.

In a disaster, timing becomes vital. The Red Cross must coordinate volunteers and services for disaster relief across America quickly and efficiently.

Like many businesses, schools, banks and government agencies, the Red Cross decided to use the Immediate Response Information Service (IRIS) created by TechRadium, Inc.

When the Red Cross calls or e-mails an alert to IRIS, the system sends messages to the Red Cross's contacts in 30 seconds. Volunteers, organizers and emergency response teams receive the Red Cross' messages through their phones, pagers, PDAs, computers and fax machines. IRIS will continue dialing phone numbers until people receive their emergency alert.

IRIS users do not need to buy or install special software. The service translates messages into 10 languages – English, Spanish, Chinese, French, Korean, Portuguese, German, Vietnamese, Japanese, Italian.

IRIS also proves reliable. The system uses many servers across the U.S. If one server should happen to go down, IRIS will still work.

IRIS aids the American Red Cross, but it can be suitable to any organization of any size. IRIS can quickly distribute nonemergency information, ranging from weather alerts to office closings. It can tell managers about a quickly scheduled meeting or a utility company about a major outage.

Natural and man-made disasters can devastate communities and slow responses to emergencies can cost lives. Americans should feel safe knowing that the Red Cross uses the most advanced alert system to coordinate its relief efforts.

To learn more about IRIS and to view a demonstration, visit www.useiris.com.
This article is copyright free. You are free to use it on a blog, website, in a newspaper, or newsletter.
To re-post this, copy the content above, or HTML on the right, and paste onto your site.