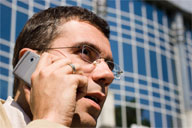 NewsUSA) – Coordinating people can prove difficult. But when a business depends on ready communication, everyday inconveniences can cut into profits.

One employee may meet so much traffic, she misses a meeting. Another employee may arrive late, not realizing that the meeting's location had changed.

Poor corporate or office communication can lead to mistakes, lost profits and low employee morale. As businesses grow, they need to create strategic communication plans. Many corporations now communicate using technology originally designed to aid emergency-relief organizations and governments.

Called the Immediate Response Information System, or IRIS, the technology allows organizations to streamline large group communications. IRIS can contact thousands of people in a few seconds via their home or cell phones, PDAs, pagers, fax machines and e-mail accounts.

When someone calls or e-mails an alert to the IRIS system, it creates and sends a uniform message within 30 seconds. People can send messages to the system from any phone or Internet-connected computer.

The service can translate messages into 10 languages – English, Spanish, Chinese, French, Korean, Portuguese, German, Vietnamese, Japanese and Italian.

IRIS guarantees that people receive group communications. It will continue dialing phone numbers until its message is received. IRIS will verify that people receive its alerts.

Businesses can use IRIS to communicate emergency information to employees, police and fire departments and building managers. But the service proves inexpensive enough to use in nonemergencies, too. IRIS can alert employees to traffic changes, adverse weather conditions, building maintenance information – even the latest sports or stock figures.

IRIS requires no software, hardware or system installation, making it a cost-effective and easy way for companies to streamline their inner-organizational communications – along with their business.

TechRadium, Inc., IRIS's developer, offers more information and a demonstration online at www.useiris.com.
This article is copyright free. You are free to use it on a blog, website, in a newspaper, or newsletter.
To re-post this, copy the content above, or HTML on the right, and paste onto your site.