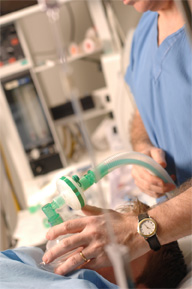 NewsUSA) – Accidents happen every day. A car runs a red light and causes a crash. Someone falls from a ladder. Another person slips while walking their dog.

Unconscious or dazed patients cannot communicate basic information, like drug allergies or the names of their loved ones. Paramedics and hospitals cannot give personalized care. For example, an emergency room technician might administer one drug, only to find that it conflicts with a patient's blood pressure prescription.

To make life-saving decisions during emergencies, medical personnel need easy access to patients' medical information. Some companies, perceiving a need, have developed new technologies that could improve emergency care.

For example, My LifePlan Holdings, Inc. (MLPH), has created and tested a fingerprint-based computer system. The system allows clients to store their health information and wishes about end-of-life care on a secure Web site. Using a fingerprint scan, paramedics can identify their patient and view their medical history within seconds.

"In the event you can't speak on your own behalf, your finger is put on a reader and pulls up your information instantly," said Ruth Skocic, My LifePlan Holdings, Inc.'s founder and chief executive officer.

Clients can input information about chronic health conditions, prescription medications, allergies to medications and medical histories and contact information, helping ensure more efficient healthcare during emergencies. Clients can also store their living wills and legal information in the system in a portable document format (PDF) file.

Past efforts to make medical information easily accessible relied on ID cards or bracelets, but a fingerprint-based system wouldn't require patients to keep these extra objects on hand. Although the system now uses fingerprints, it could also be adapted to identify patients by their irises (eye) or DNA.

To participate, enrollees simply fill out a packet or register on the Web. The service will likely cost between $20 and $29 per year, though My LifePlan Holdings, Inc. will offer discounts to seniors and clients participating in some social service agencies,

The My LifePlan Holdings, Inc. system has been tested in three Ohio fire stations. Chris Singleton, Ravenna, Ohio Fire Department Lt. and a medic who has used the system calls the plan "a great idea."

For more information, visit www.mylifeplaninc.com
This article is copyright free. You are free to use it on a blog, website, in a newspaper, or newsletter.
To re-post this, copy the content above, or HTML on the right, and paste onto your site.