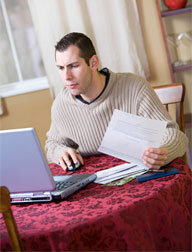 NewsUSA) – As rising prices leave Americans low on cash, many turn to credit cards to cover expenses. But people shouldn't use credit cards if they cannot pay credit card bills -; bad credit ratings can create lifelong, devastating effects.

Banks, financial institutions and businesses use credit card ratings to establish consumers' reliability. People with no or bad credit can find themselves unable to get car or home loans. Landlords and potential employers check credit ratings, too. So, Americans without good credit can have trouble renting an apartment or getting a job.

But people looking to recover from bad credit do not need to declare bankruptcy. With some creativity and judicious spending, people can establish or recover good credit ratings -; and end up with some high-end electronics to boot.

Companies now offer low-rate financing options, which help people buy products while also building good credit.

One company, Pay by the Day (www.abuckaday.com), allows customers to finance IBM computers, Toshiba notebooks, JVC televisions and Canon digital cameras -; along with other electronics, sporting goods and furniture -; for as little as a few dollars a day.

Buyers determine a set amount of money, which is automatically withdrawn from their bank accounts to go towards their purchase. Pay by the Day sends products to homes with no extra money down. The service has no hidden costs. Once people pay off their purchases, they own them completely.

Pay by the Day will approve customers for financing, even if they don't have good -; or any-; credit ratings. In purchasing a computer or camcorder through Pay by the Day, people can establish or improve their credit ratings.

Having a credit card -; and the credit rating that comes with it -; has become a necessity. For people finding their loan applications and resumes continuously declined due to bad or nonexistent credit, financial recovery can seem endlessly frustrating. But with companies like Pay by the Day offering low-financing options, buying a laptop or television now can help Americans rent apartments, buy homes and cars, or get jobs later in life.
This article is copyright free. You are free to use it on a blog, website, in a newspaper, or newsletter.
To re-post this, copy the content above, or HTML on the right, and paste onto your site.