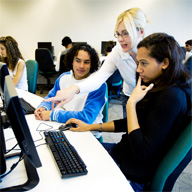 NewsUSA) – Between balancing classes and after-school activities Raymond Perez, 17, is as busy as ever. He is one of millions of high-school students preparing for the next step in life. Unfortunately, many U.S. students are not learning skills necessary to succeed in college and the workplace.

The Alliance for Excellent Education estimates that only 34 percent of high-school graduates are ready for college. Additionally, after-school programs have been reduced due to budget cuts — even as studies reveal that they help prepare teens like Perez for life after high school. The University of Washington's Center for Information & Society examined the impact of Boys & Girls Clubs of America's Club Tech program, sponsored by Microsoft.

"Many lower- and middle-income students don't have access to enriching after-school activities like Club Tech," said Joe Sullivan, the study's lead author. "As schools have geared curricula toward core academic competencies, organizations like Boys & Girls Clubs fill an important void."

From writing a research paper to creating video resumes, kids and teens learn how technology can help them perform better in school and expand their future career opportunities.

"Club Tech is more than just providing computers. We give kids and teens an opportunity to engage with technology in a way that builds confidence and real-world skills," said Karen MacDonald, vice-president, Boys & Girls Clubs of America.

Perez has participated in Club Tech at Boys & Girls Clubs of Denver for two years. Beyond developing Web and graphic design skills, he's served as a leader and learned the importance of teamwork — nontechnical abilities that play a crucial role in his future. In fact, he's started his own small business offering affordable Web and graphic design services.

"I love the unlimited creativity involved in Web design," said Perez. "I've been able to increase my creativity and design skills. It was a challenge in the beginning, but being encouraged by my technology advisor really made me push for the sky."

The technology access that kids get outside of school is an important complement to classroom learning. Through Club Tech, high-school students get to harness technology in a way that makes them more literate in current affairs and other topics that spill over from school.

"With the right resources, all teens have the potential to be great scholars, entrepreneurs and leaders in our communities," added MacDonald.
This article is copyright free. You are free to use it on a blog, website, in a newspaper, or newsletter.
To re-post this, copy the content above, or HTML on the right, and paste onto your site.