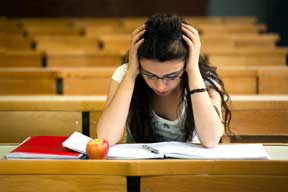 (NewsUSA) – For college students, the stress of exams is an anxiety-filled final hurdle to overcome before fully relaxing and enjoying the long-deserved break. These exams can be intimidating — especially for freshmen with an advanced workload — which is why stress management is key.Use these five stress-relief tips to help ease exam-taking tensions as casual study time becomes cram time.* Watch a funny movie. There's nothing like comic relief and laughter to get your mind off that chemistry final. Need an idea for a great college-aged comedy? Check out "The Pool Boys," available on DVD, Blu-Ray, streaming and digital download from Seven Arts.The DVD and Blu-Ray include special features that you can save for further study breaks, including interviews and commentary. For a preview, check out the trailer (rated R) at www.ThePoolBoysMovie.com.* Hit the gym. Try to schedule regular workouts around your blocks of exam studying time to help keep stress in check. If you are on a sports team, you may still have practices during exam time, but if not, make plans with teammates to do some conditioning. Go for a run, shoot hoops or lift some weights.If you're on your own for exercise and the weather outside is frightful, try an indoor dance or yoga class, or an exercise video or DVD that you can do in your room.* Have a snack. It's hard to concentrate if your stomach is growling, but hold off on the celebratory drinks until after exams are over. Instead, have some energy-boosting snacks on hand while studying, such as trail mix or energy bars. Stay hydrated, too.* Get some air. Does your exam stress mean hours in the library or lab? Go out and walk around the building, or around the block. Clearing your head and getting your eyes away from the screen can work wonders.* Avoid all-nighters. Sometimes an all-night study session is inevitable, but don't underestimate the value of sleep in keeping exam stress under control. If you have multiple exams in the same week, several days with little sleep will leave you even more stressed.Don't overdo the caffeine, and try to plan your sleep as you plan your exam study schedule. If you are a night person who studies more effectively from 10 p.m. to 2 a.m., make that work for you, but factor in a mid-morning nap the next day.
This article is copyright free. You are free to use it on a blog, website, in a newspaper, or newsletter.
To re-post this, copy the content above, or HTML on the right, and paste onto your site.