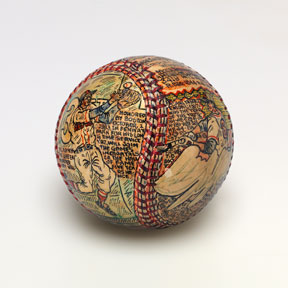 (NewsUSA)
– All artists have one thing in common — they start with a blank canvas.
In the case of George Sosnak, a folk artist whose work is being exhibited through August at the Chrysler Museum of Art in Norfolk, Va., his canvas of choice happened to be a part of America's favorite pastime — baseball.
To understand the artist, you have to understand the medium, its history, and the man behind the art.
It was around this small, leather ball that the artist found a way to express his love of the game.
While Sosnak was passionate about baseball, he was athletically unskilled as a player. So, he did the next best thing — he became an umpire. After World War II, he landed in the Pioneer League for the 1956-1958 seasons, later going on to umpire in the Three-I League (Iowa, Idaho, and Indiana) and Southern Association, before both leagues folded. With that, his dream of becoming a Major League umpire died.