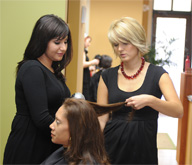 NewsUSA) – As unemployment figures continue their rise, one industry has proven to be resilient: cosmetology. According to Empire Beauty Schools, the nation's largest provider of cosmetology education, more people are seeking to pursue cosmetology than ever before. Over the last year, Empire has seen a boom in enrollment of 33 percent on average nationwide, with some locations seeing student enrollment double.

According to Franklin K. Schoeneman, CEO of Empire, many of Empire's students attended college, but left when they felt college would not prepare them for the workforce. Other students have turned to cosmetology as a second career choice, looking for the creative outlet and stability that the profession offers.

Funding for post-secondary education in the economic stimulus package, including increased Pell grants and work study opportunities, has further fueled the growth in cosmetology education. The stimulus also increased the HOPE tax credit to $2,500 per year. Families earning less than $160,000 annually may now claim the HOPE tax credits for four years, rather than two.

Tammy Giles, a 39-year-old Empire Beauty School student based in Michigan, has a common story. After being laid off from her job as a retail sales manager and exhausting all of her unemployment, she had to pursue a new profession. Tammy had always been interested in cosmetology, so she set out to get her license, feeling confident in the employment opportunities it would offer. "Everybody wants to look good," said Giles. "You save your money, even in hard times, and you spend it on what you think is important."

According to the latest figures from the U.S. Bureau of Labor Statistics, employment of hairdressers, hairstylists and cosmetologists should increase by 12 percent. Many now cut and style both men's and women's hair, and the demand for hair treatment by teens and aging baby boomers is expected to remain steady or grow. "The great thing about cosmetology is that it is one job that can't be outsourced," said Schoeneman.

To learn more, visit the Empire Beauty Schools Web site at www.empire.edu.
This article is copyright free. You are free to use it on a blog, website, in a newspaper, or newsletter.
To re-post this, copy the content above, or HTML on the right, and paste onto your site.