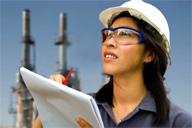 NewsUSA) – Recent surveys on the U.S. labor market point to favorable employment opportunities for engineers and scientists, even in today's struggling economy.

According to statistics compiled at the American Society of Mechanical Engineers (ASME), the nation's engineering workforce of more than 1.7 million professionals is expected to increase by 11 percent through 2016. In addition, studies of the science and engineering labor force conducted by the National Science Foundation note that the strong growth in technology jobs over the past two decades will continue, both in absolute numbers and as a percentage of the total labor market.

Engineers and scientists are earning good starting salaries as well. According to the National Association of Colleges and Employers (NACE), 12 of the 15 highest-earning college degrees are in engineering. Starting salaries in petroleum engineering average $83,121, while mechanical, aeronautical, and industrial engineers can expect offers in the mid to high-50,000's.

The positive employment trends and boost in salaries are encouraging indeed for ASME and other organizations that advocate science, technology, engineering and math (STEM) education. ASME also encourages ongoing continuing education and skills enhancement, which foster sustained career development and enrichment.

Early-career engineers as well as more seasoned engineers have many resources for continuing education and professional development, including ASME, which offers short courses in a variety of disciplines like power engineering and bioprocess technology. In addition, the Professional Practice Curriculum at ASME allows engineers, particularly those in the early stages of their careers, to access learning modules on topics ranging from intellectual property and negotiation to team building and risk assessment.

Engineers may also choose to augment technical skills with skills and aptitude in marketing, strategic planning, accounting, financial systems and project management. With innovation becoming increasingly important, companies require managers who can speak the language of both technology and business to effectively manage and negotiate projects in the global marketplace.

For an engineer in a workplace that is demanding ever-changing skill sets, education goes beyond a college degree. Learning must be a lifelong endeavor. For information on engineering workforce development, contact ASME at www.asme.org.
This article is copyright free. You are free to use it on a blog, website, in a newspaper, or newsletter.
To re-post this, copy the content above, or HTML on the right, and paste onto your site.