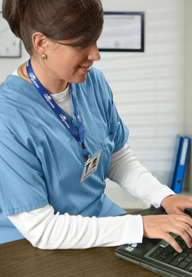 (NewsUSA) – The United States doesn't have enough nurses, and the nursing shortage will only get worse. Due to new health care legislation, an estimated 32 million Americans will enter the health care system by 2014 — according to the U.S. Department of Health and Human Services, the national nursing shortage will increase 29 percent by 2020.
Many Americans want to earn their bachelor's degree in nursing (BSN) but are turned away. According to the American Association of Colleges of Nursing, schools turned down more than 54,000 qualified applications to professional nursing programs in 2009. The reason? Program capacity is too low due to a lack of nurse educators.
But some nurses are advancing their training through self-paced, online education programs like those offered through The College Network and its partner institutions.
Online programs provide nurses with the ability to earn a valuable BSN while continuing to work full time in their current nursing job, gaining valuable hands-on experience while also providing for their families.
Advantages of online BSN programs include:
1. Self-paced education. Those with significant work experience might be out of practice when it comes to studying in a traditional school environment. Companies like The College Network ease the transition by allowing adult learners to take their time or move more rapidly through their courses than would be possible in a classroom setting.
2. Ability to work and study simultaneously. Students can take courses and study on their own timeline. Without needing to take off work, drive to campus and sit in a classroom each week, students can earn their degree while working full time and keeping family commitments.
3. No waiting lists. A nurse who wants to earn a degree at a traditional college is often placed on a waiting list until a spot becomes available. In the two to three years it can take to get to the top of a waiting list to start a program, that student could have completed the entire program from an online education provider.
To learn more about The College Network's programs for nurses, visit www.collegenetwork.com/nursingPR.
This article is copyright free. You are free to use it on a blog, website, in a newspaper, or newsletter.
To re-post this, copy the content above, or HTML on the right, and paste onto your site.