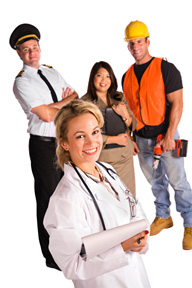 NewsUSA) – Thinking of a career change? Job opportunities are shifting, and now may be a good time to consider a change. But a new career may mean continuing your education.

Consider improving your skill set and future career opportunity by getting a bachelor's or master's degree in your chosen field. Working adults can earn degrees at accredited, high-quality universities online — a great way to balance your work and family life while learning a new skill.

If making the career leap, consider the transition to a job in a high-growth sector. According to the Bureau of Labor Statistics, growth is expected to be strong for post-secondary teachers through 2016 as well as computer and engineering jobs, and jobs in management. There is expected growth in the transportation and warehouse industry and for aircraft equipment mechanics and service technicians.

Homeland security also continues to be a growth sector for new jobs. According to a report from the Homeland Security Research Corporation for 2007-2011, the U.S. Homeland Security market will grow from about $24 billion in 2006 to $35 billion by 2011.

All of these industries require skilled and experienced workers. The first step in obtaining those skills is to get a degree in your chosen field. American Public University (www.studyatapu.com), for example, has accredited online bachelor's and master's degree programs in Education, Information Technology, Transportation and Logistics as well as a well-respected program in Homeland

Security.

APU's tuition is a fraction of what most "brick and mortar" schools offer, with undergraduate tuition at $750 per course and graduate tuition at $825 per course. APU has not raised its undergraduate tuition in eight years, so students can be assured tuition won't drastically increase during their tenure. An undergraduate book grant also helps students get books at no cost — one more way to save money and still get a great education.

Do some research on accredited, affordable and respected online universities. Earning a degree can be your next step to a brighter future.
This article is copyright free. You are free to use it on a blog, website, in a newspaper, or newsletter.
To re-post this, copy the content above, or HTML on the right, and paste onto your site.