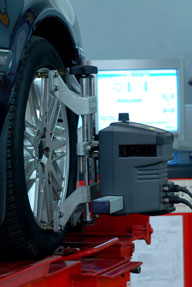 NewsUSA) – Each year, Americans spend billions of dollars on Father's Day gifts. Instead of buying Dad the latest gadget or gift certificate this year, consider purchasing a wheel-alignment service for his vehicle. A wheel alignment will not only help one of his biggest investments last longer, it can help him stay safer on the road.

During a wheel alignment, the technician adjusts the geometric angles of the steering and suspension systems in relation to the frame of the vehicle to ensure that all four tires wear properly while maintaining optimum vehicle stability and handling. Proper vehicle alignment is important for correct vehicle handling, tire wear, braking stability and a smooth ride.

All vehicles require a wheel alignment from time to time. For example, hitting a pothole or curb can knock the alignment out of whack. Additionally, many vehicle manufacturers recommend having the wheel alignment checked as part of the vehicle's normal maintenance schedule. According to Firestone Complete Auto Care, warning signs of possible improper alignment include:

– Uneven tire wear.

– The vehicle pulls to one side, wanders or weaves when driving in a straight line without braking.

– The steering wheel does not return to the center position after making a turn.

– The steering wheel isn't centered when the wheels are pointed straight ahead.

– Excessive tire squeal while turning at normal speeds.

If you or Dad notice any of these warning signs, have an ASE Certified technician inspect the vehicle and perform a computerized alignment check to verify that the steering and suspension angles are adjusted properly. Diagnosing and fixing a potential problem early can save you and Dad money in the long run.

This Father's Day, show Dad you care by getting him an unconventional, but very important, gift — a wheel alignment.

Trisha Hessinger is a former racecar driver and nationally recognized automotive education specialist for Firestone Complete Auto Care.
This article is copyright free. You are free to use it on a blog, website, in a newspaper, or newsletter.
To re-post this, copy the content above, or HTML on the right, and paste onto your site.