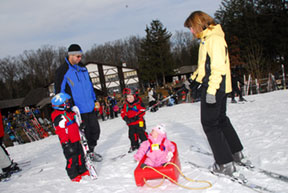 (NewsUSA) – Weather prognosticators are predicting a doozie of a winter this year, so, for a surefire cure for the winter blues, southeast Pennsylvania's Valley Forge area offers these seven popular cabin-fever relievers.
1. Feel the need to ski?
Spring Mountain Adventures in Schwenksville, Pa., with its nine trails and six lifts is the closest ski mountain to Philadelphia, south Jersey and Delaware and also offers snow tubing and snowboarding.
2. Ice skating, sledding, ice fishing and cross-country skiing are popular activities at nearby Green Lane Park in Green Lane, Pa.
3. Another choice for cross-country skiing is Valley Forge National Historical Park in King of Prussia, which is also home to the East Coast's largest retail shopping complex. It's also full of activities geared toward families and young kids.
At Valley Forge, kids aged 6 to 12 can "enlist" in the Continental Army. They're mustered in by receiving enlistment papers and copies of Continental currency. The recruits are issued wooden dummy muskets to learn some of the different ways George Washington's soldiers would have carried them. Attendees are encouraged to return for future programs.
4. Rock climbing at Philadelphia Rock Gym in Oaks lets you reach your peak, build confidence, make new friends, stay active and have fun all at the same time. It was the first indoor climbing gym in the Philadelphia area and offers programs for all ages and ability levels.
5. Around the corner and available to groups of 15 or more is the American Treasure Tour — the area's newest draw, offering a 90-minute guided tram tour of more than 100,000 pieces of Americana spanning every decade of the 20th century. It includes a magnificent collection of nickelodeons.
6. There's no better place to treat the winter blues than The Stoogeum in Gwynedd Valley, Pa. The Stoogeum features just a fraction of this collection on display — some 3,500 items out of about 100,000 — on three floors in a 10,000 square-foot professionally designed museum. Artifacts include movie posters, magazine covers, a ceramic cat made by Moe, rare family photographs of Curly and more. Visit The Stoogeum's website at www.stoogeum.com for upcoming open house dates.
For more information on winter activities in the Valley Forge area, including affordable hotel and shopping packages, go to www.valleyforge.org.
This article is copyright free. You are free to use it on a blog, website, in a newspaper, or newsletter.
To re-post this, copy the content above, or HTML on the right, and paste onto your site.