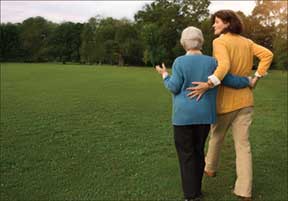 (NewsUSA) – It is estimated that the care of sick, elderly and disabled family members and friends generally falls on the shoulders of more than 42 million Americans, and yet most people don't think of themselves as caregivers.
What begins as an act of love, can quickly turn into a mountain of stress and exhaustion as the needs of the infirm become more demanding. This, in turn, can prompt feelings of guilt and depression, yet still be very rewarding for the caregiver.
To find out if you're a caregiver, take the simple quiz below:
* Do you currently help a loved one with tasks such as cleaning, or keeping up with the yard or laundry?
* Do you help pick up medication or remind a friend or family member to take their medication?
* Do you regularly cook or provide food for a loved one?
* Do you drive a friend or family member to doctor's appointments, shopping trips or on other errands?
* Do you provide personal care to a loved one, such as bathing, dressing or helping them to the bathroom?
* Do you help take care of their finances or pay their bills?
* Are you stressed by the additional responsibilities you've had to take on to help a loved one?
* Do you spend so much time and energy taking care of your loved one that you sometimes neglect yourself or your immediate family?
If you answered yes to one or more of these questions, you are a caregiver. This means that you could find yourself juggling new roles such as nurse, housekeeper, accountant, driver and chef. So that you don't feel completely overwhelmed and alone, AARP (www.aarp.org/caregiving) has resources that can help you manage all of your caregiving responsibilities, as well as ways to take care of yourself in the process.
If you answered no, then you are not (yet) a caregiver, but chances are you know someone who is, or you will become a caregiver one day. Adding extra responsibilities to an already full life, can be tough, stressful and isolating, which is why AARP created the Thanks Project. Take a moment to honor those people who selflessly provide care and comfort to loved ones and friends at ThanksProject.org.
The first step to gaining balance with providing care to a loved one and juggling all of life's responsibilities, is identifying yourself as a caregiver.
This article is copyright free. You are free to use it on a blog, website, in a newspaper, or newsletter.
To re-post this, copy the content above, or HTML on the right, and paste onto your site.