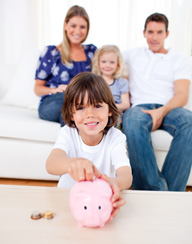 (NewsUSA) – Studies have shown that parents have the greatest influence on their children's financial habits, and now, more than ever, mothers and fathers are taking the primary role in educating kids about healthy money management.
"Most financial experts agree there is a need for financial discussions among families to avoid or soften potential future economic upheavals," says Suzanne Poole, executive vice president, retail sales strategy, TD Bank. "According to a recent financial literacy poll by TD Bank, only 50 percent of families report having weekly conversations with their children, even though there are easy ways to incorporate tips about money in everyday conversation."
TD Bank surveyed 1,637 consumers within the Northeast as well as in Florida and Washington, D.C. With a little more than half of families having weekly conversations with their children about money matters, it's important to keep it simple, be honest, and make it fun. Now, let the lessons begin:
Be Open: According to the survey, a majority of parents agree that honesty is the best policy when talking to children about household finances. Perhaps as a result of the recent economic struggles, the survey found that 55 percent of families say they are talking with their children more often about money.
Set Savings Goals: TD Bank's survey showed that teaching children to save with a piggy bank is one of the most popular money-related activities. That being said, only one in three parents reports setting a savings goal. If your child is saving, help them set goals and define the steps needed to reach them.
Establish a Family Budget: Despite the evidence that better budgeting can lead to saving, the survey shows that 47 percent of families are still not following or creating a monthly budget. Financial websites, such as Mint.com, offer free programs and budget templates to develop a financially fit family budget.
Enroll in Financial Literacy Programs: Financial literacy can be a daunting task for parents, but there are educational tools and programs that can help with this process. For example, TD Bank offers an interactive financial literacy program for grades K-12 called "WOW!Zone." It is available online for free at www.tdbank.com/wowzone and offers advice and resources for parents to teach children and teens about money, savings and banking.
This article is copyright free. You are free to use it on a blog, website, in a newspaper, or newsletter.
To re-post this, copy the content above, or HTML on the right, and paste onto your site.