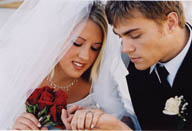 NewsUSA) – For many brides, the quest to plan the perfect day can quickly turn into a nightmare trip down the aisle. Here are a few tips to keep your wedding day bliss from turning into the honeymoon blues.

* Marriage Planning 101: Once the ring goes on, the race to plan the perfect wedding begins, giving couples little time to think about the marriage itself or how their wedding spending decisions could affect their future. But smart couples are now setting aside time to address pre-wedding issues such as what they will do when it comes to financial planning, spending money, raising children and family politics.

With nearly half of all newlyweds taking on debt to finance their "big day," couples should take every opportunity to make their wedding-related and everyday spending count toward their future.

One unique new rewards program, uTANGO.com, offers couples $10,000, $100,000 and even $1 million in cash rewards to stay married and shop with uTANGO's 250-plus merchants such as Expedia, Target.com, Nordstrom.com and BlueNile.

In addition to helping couples save for their future, uTANGO.com offers free advice from wedding, financial and relationship experts. By taking a proactive approach, couples can leverage their wedding spending to ease financial worries and start building toward their future.

* Destination USA: While destination weddings, especially to international locales, continue to be one of the hottest wedding trends in recent years, they can also present challenges such as increased costs, security concerns, language barriers and unreliable vendors.

A less expensive alternative is to pick a centrally located U.S. city like Chicago, known for fantastic wedding and party venues, choice accommodations and activities to suit any taste and budget. It may not be as exotic as Tahiti, but couples often find that more family and friends can attend and planning challenges are drastically reduced when the nuptials stay stateside.

* Managing wedding expectations: For many brides, planning the perfect wedding is a major life event decades in the making. With this in mind, it's easy to see how wedding expectations can get out of hand in a hurry.

With wedding euphoria taking over, busy brides and grooms can quickly lose sight of spending, causing the perfect wedding to turn into fights over money. By managing expectations of what a "dream" wedding should be, it is still possible to have a lovely and elegant wedding without breaking the bank.

* Bridezilla-free zone: The term "Bridezilla" has been used to describe a difficult, unpleasant, perfectionist bride whose obsession with planning the perfect wedding day leaves frustrated family, friends, bridal vendors and even her groom distraught in her wake.

Belligerent Bridezillas beware: Horror stories of fist fights, hair pulling, kicking and screaming from out of control brides-to-be have put wedding planners, vendors and bridesmaids on the offensive. Some wedding vendors now go as far as to include language in their contracts reserving the right to cancel if the bride's behavior is determined to be "out of control or abusive." So, whether you hit the gym or hit the spa, have a plan in place to handle wedding-related stress and keep Bridezilla at bay.

* Just say "no": Brides place such demands on their bridesmaids these days that it is not uncommon for them to decline, even when it's one of their best friends. Not only is the financial responsibility of being a bridesmaid staggering, but the time commitment demanded by some brides is also daunting.

The massive to-do lists handed out by brides, coupled with the obligatory appearances for shopping, parties and showers, can leave bridesmaids feeling underappreciated, overworked and broke after the wedding is over.

Brides should be upfront about both time and financial expectations with their friends when asking them to join their wedding party and understand if the answer is no.

Martie Duncan is a nationally renowned wedding expert who has worked in the bridal industry for more than 20 years. Duncan has consulted on episodes of "The Oprah Winfrey Show" and the film "My Best Friend's Wedding" and is currently editor in chief of the

uTANGO.com LifeMatters e-magazine (www.utango.com/LifeMatters).
This article is copyright free. You are free to use it on a blog, website, in a newspaper, or newsletter.
To re-post this, copy the content above, or HTML on the right, and paste onto your site.