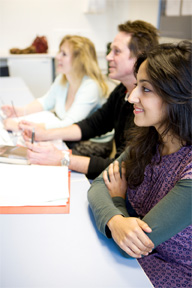 (NewsUSA) – As the economic recession continues, the value of education becomes more apparent. Workers who continue to further their education are more competitive in the workplace, earning more promotions and helping their employers stay afloat in the down economy.
But paying for higher education or additional job training is difficult, especially as banks become more reluctant to offer student loans. But employers clearly benefit from a more highly trained workforce, leaving some to offer Lifelong Learning Accounts (LiLAs), saving plans that allow employees to put money away toward their continued education.
LiLAs work like 401(k)s. Employees set aside a certain amount of money from their paycheck, which then enters their LiLA account. Employers may match some or all of an employee's contribution. At any point, the employee can access the account to cover education-related expenses like tuition, workshop fees, textbooks or class materials.
The Council for Adult Education and Experiential Learning (CAEL) has piloted LiLA programs in several states. Even as the economy fell, employees continued to save and access funds.
In fact, as the economy worsened, employees started contributing more to their LiLA accounts. Current participants in Illinois contribute $18 more per month than employees who participated in LiLA programs between 2001 and 2007.
"The response that we have seen from employees in our programs has just been overwhelming," said Pamela Tate, president and CEO of CAEL. "It has made such a difference in people's lives."
Rose Yankosky, an employee of Western Consolidated Technology for 17 years, used her LiLA to work toward her associate's degree and earn ASQ (American Society for Quality) Certification from a community college. This helped her obtain a job as a Quality Inspector with another employer when Western Consolidated closed its doors. "I have definitely benefited from [LiLAs]', says Rose. "I have learned and understand more aspects of my job. My earning potential has increased, and my marketability has increased. Nowadays, companies want people who are ASQ certified."
For more information about LiLAs, visit www.lifelonglearningaccounts.org.
This article is copyright free. You are free to use it on a blog, website, in a newspaper, or newsletter.
To re-post this, copy the content above, or HTML on the right, and paste onto your site.