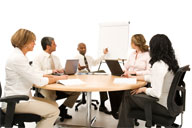 NewsUSA) – In a down economy, when investors do not want to take risks, entrepreneurs struggle to raise capital through the traditional venues. But some entrepreneurs have found innovative ways to raise capital.

New technologies help raise capital in new ways. Entrepreneurs are using software programs to organize and streamline their fundraising efforts.

One company that specializes in assisting start-up and early-stage companies raise seed, development and expansion capital through the issuance of securities, Commonwealth Capital Advisors, LLC, has created software that teaches aspiring entrepreneurs how to raise capital. The program, Financial Architect, substantially reduces the cost and time needed to raise capital.

Timothy Daniel Hogan, a former Wall Street Investment Banker, created Financial Architect with several goals in mind. First, Financial Architect teaches people how the real world of capital works through the e-book "The Secrets of Wall Street – Raising Capital for Start-Up and Early-Stage Companies."

Second, Financial Architect helps entrepreneurs create a "Marketable Deal Structure" for the securities that investors want to buy, while enabling entrepreneurs to keep the vast majority of common ownership interest and voting control. Better yet, Financial Architect helps Entrepreneurs avoid falling into debt as well.

Financial Architect also helps businesspeople produce the required securities-offering documents so that they are fully compliant with federal and state securities laws.

Third, the software teaches entrepreneurs how to access real investors for personal introductions, which help get the job done.

In creating Financial Architect, Commonwealth Capital Advisors, LLC has taken one of the most complex, arduous and expensive processes and reduced it to a simple, easy and inexpensive system. Commonwealth Capital Advisors, LLC has borne 90 percent of the cost and has done 90 percent of the work involved in the process, allowing entrepreneurs to finish the process of capitalizing their companies.

You can get started by reading the abridged version the e-Book, "The Secrets of Wall Street – Raising Capital for Start-Up and Early-Stage Companies."

To download a copy, visit, www.CommonwealthCapital.com and enter promotional code 1492.
This article is copyright free. You are free to use it on a blog, website, in a newspaper, or newsletter.
To re-post this, copy the content above, or HTML on the right, and paste onto your site.