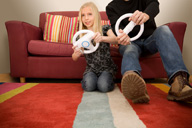 NewsUSA) – As time has drifted on, the characteristics of a family have slowly changed. From the era when mother, father and children all sat at the dinner table together, played board games and crossword puzzles and watched their favorite television show as a single unit to the present, when families have so many different activities that it rarely permits them to spend any time together as a single group, the definition of "quality time" has been altered.

In fact, sociologists and authors Suzanne Bianchi, John Robinson and Melissa Milkie suggest in their book, "Changing Rhythms of American Family Life," that parents are actually spending more time with their children than in 1965. But the time may not be spent as a single unit and is often scheduled around all other activities.

"We are robbing our children and we are robbing ourselves of the richest relationships of our lifetime," warns parenting expert Mary Gordon. "It means we're not really shoring them up for success. Little children need adult time, and they need together time … without any agenda."

Many factors contribute to lost family time: Parents are working longer hours, family members are involved in more activities and video games consume children's free time. So, what can parents do to get that old-fashioned family atmosphere back?

One of the best ways parents can spend more time as a complete family with their children is by adopting their activities. According to a 2007 Neilson study, 41 percent of all U.S. homes have at least one video game console — an 18.5 percent increase from 2004.

Consoles like the Nintendo Wii are a great source of entertainment for children and adults, and they can be a way for parents to find quality time as a complete family. The Wii has many four-player games, like the popular Wii Sports series, where you can play bowling, golf and tennis.

Parents who wish to use their Wii for family bonding can keep their quality gaming going strong with the MeWe Quad Charger designed by Hamgo, Inc., an independent Wii video game accessory manufacturer and distributor. The Quad Charger allows Wii owners to charge up to four remotes simultaneously with their rechargeable battery packs, eliminating the constant need to buy and replace AA batteries and providing up to 13 hours of play time per remote.

For more information, visit www.hamgo.com.
This article is copyright free. You are free to use it on a blog, website, in a newspaper, or newsletter.
To re-post this, copy the content above, or HTML on the right, and paste onto your site.