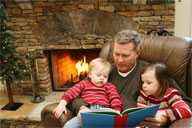 NewsUSA) – In 1985, Alastair Macdonald noticed that his children's sense of the holiday spirit centered around Santa Claus and stockings, not the true story of Christmas. But when Macdonald went shopping for more spiritual bedtime reading, he was disappointed to see that holiday classics, like "The Night Before Christmas" and "Rudolph," ignored the Christmas message.

Over the next 25 years, Macdonald would work to create a new children's Christmas book, a classic with engaging wordplay akin to Dr. Seuss, but that communicated the true story of Christmas. "It was one of those ideas that refused to die," said Macdonald. "I began writing the story one Christmas. Every year I would add to it, and at the end of each Christmas I would put the manuscript away."

Macdonald's enchanting book, entitled "First Christmas," tells the story of Christmas through the eyes of an unexpected narrator -; Joseph's loyal donkey, Zeke. Zeke faithfully recounts the events of the Christmas story in a playful, singsong voice that appeals to children without compromising the dignity and seriousness of the birth of Christ. The story provides a soothing balm for parents hoping to re-focus their children's attention on the spiritual aspects of the holiday season.

"The fact is, writing 'First Christmas' has been blessed by so many moments of grace that I could fill volumes about them," said Macdonald. "The experience has strengthened my belief in God and his quiet intervention in our world."

Macdonald's lovely, sumptuous book will prove an heirloom for many faithful families. The book is printed in five inks, including gold, and contains 21 illustrations by Egyptian artist Adel Nassief, a Coptic Christian who paints murals in Orthodox churches around the world. Nassief's illustrations provide an old-world charm, helping remind children of a special moment in history.

For more information, visit www.FirstChristmas.net. The best place to purchase the book is at Amazon.com. It can also be found at Barnes and Noble book stores, www.welcomebooks.com or by calling 212-989-3200 -; ask for Eric or Wade.
This article is copyright free. You are free to use it on a blog, website, in a newspaper, or newsletter.
To re-post this, copy the content above, or HTML on the right, and paste onto your site.