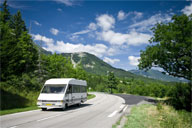 NewsUSA) – As the weather becomes warmer, many people will start thinking about hitting the road for vacation. But if your vacation means pulling out a recreational vehicle, you might want to consult a technician before stocking up on road snacks.

Keeping a RV in storage — even one that was properly "winterized" — can allow various problems to develop. Critters can move into corners and storage compartments. Hoses and gaskets can develop cracks and leaks, propane tanks can rust and engines can develop strange noises.

While most RV owners winterize and de-winterize their RVs, only an expert eye can recognize subtle damage that may have occurred to intricate components while it was sitting.

But do the technicians who service your RV have what it takes to provide the best diagnostic care? If they are certified through the RVDA-RVIA RV Service Technician Certification Program, you should be getting the best possible service.

The RV Service Technician Certification Program began testing and certifying technicians in 1993. Now, there are over 3,500 certified RV technicians across the U.S. and Canada. All of these technicians worked hard to achieve their status, and they continue to educate themselves in order to maintain that status.

How do you find a certified RV technician when you need one? It's easy. Go online to www.rvda.org and click on the "find a dealer" tab. Then, click on the pull-down tab next to 'Company State' and select your state.

The season isn't going to wait for you. So, as an RV owner, what are you waiting for? Isn't it time to have your RV de-winterized? Getting your RV roadworthy sooner will only bring a longer timespan to take in the view and enjoy the freedom of the road.

For more information, visit www.rvda.org.
This article is copyright free. You are free to use it on a blog, website, in a newspaper, or newsletter.
To re-post this, copy the content above, or HTML on the right, and paste onto your site.