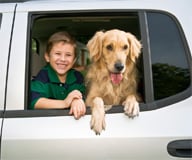 NewsUSA) – Avid NASCAR fans should be familiar with the racing term "lucky dog." During a race, the Lucky Dog Rule allows the driver of the next lapped car behind the leader to gain back a lap during a caution — a time when drivers are forced to reduce speeds due to trouble on the track. But a new contest takes the term "lucky dog" a bit more literally.

NASCAR fans and pet lovers will find much to love in "The Luckiest Dog of NASCAR" Contest, which could put one lucky winner's pooch on Kyle Busch's No. 18 Pedigree Toyota Camry during the Checker Auto Parts 500 in Phoenix on Nov. 15. The winning dog's owners will receive a three-day, two-night trip to the race.

And what does it take to win? Creativity and a dog unafraid to dress-up. During the entry period, which runs through Sept. 12, 2009, dog-loving NASCAR fans can log onto NASCAR.com/pedigreeluckiestdog to either upload a race-themed photo of their dog, or to vote on the other photos. Each voter is automatically eligible to instantly win one of 200 available $25 Pedigree gift cards. There's no limit to how many times a person may vote.

Every week, the popular vote on NASCAR.com will determine a finalist. After voters choose 20 weekly finalists, a panel of judges will select one grand prize winner on or about Oct. 1, 2009. The judging process will be based on creativity, originality and adherence to the NASCAR theme.

"We're excited to give one pet owner the chance to publicly profess the love they have for their dog," said John Anton, Marketing Director of the Pedigree Brand. "At Pedigree, everything we do is for the love of dogs, and this contest is really about giving people a platform to celebrate the bond between them and their best friend."
This article is copyright free. You are free to use it on a blog, website, in a newspaper, or newsletter.
To re-post this, copy the content above, or HTML on the right, and paste onto your site.