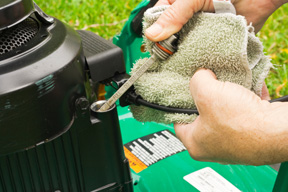 (NewsUSA) – Temperatures are rising, and people are venturing outdoors. Items like lawn mowers, motorcycles and other small engine machines are being dusted off and taken out of storage in anticipation of the warmer weather. While you may be eager to rev up their motors, before you turn the key, it's important to verify they are in proper working order.While warm weather usually puts people in a positive mood, a recent survey conducted by the makers of STA-BIL products, found one thing that Americans dread this time of year — getting their small engine equipment out of storage and ready for use. In fact, they would rather take down old holiday decorations or just pay someone as much as $100 to take care of the whole dirty job."Using a lawn mower that sputters out every five minutes or a jet ski that takes half an hour to start is a hassle," says Tom Bingham, marketing director at Gold Eagle. "In fact, nearly 75 percent of the survey respondents admitted to having issues with their small engine equipment after taking it out of storage — but with the proper maintenance, this doesn't have to be the case."Fortunately, there are three simple steps you can take to help prevent small engine equipment problems and avoid a trip to the repair shop:1. Educate yourself on how to care for small engine machines and equipment. Does it need to be stored indoors? Are there products or fluids that will help keep the engine clean? How often should the oil be changed? Proper care now can keep equipment running better, longer.2. Check fasteners, cutting blades and oil levels when you first take equipment out of storage. Fasteners should be tightened, blades sharpened and wheel bearings and fittings should be lubricated.3. For trouble starting a small engine, add appropriate fluids like Start Your Engines! fuel additive. This will clear clogged fuel lines and flush out the engine so it's clean and easy to start. All you do is pour a bottle into the fuel tank, give it a minute, and your small engine equipment will start up fast."Some repairs can cost up to $300," says Bingham. "When it comes to proper seasonal storage and maintenance, it literally pays to take care of your machinery between seasons and makes for an easy, stress-free transition."Find more information about storing and maintaining small engines at www.goldeagle.com.
This article is copyright free. You are free to use it on a blog, website, in a newspaper, or newsletter.
To re-post this, copy the content above, or HTML on the right, and paste onto your site.