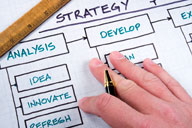 (NewsUSA) – When people see closed storefronts in the neighborhoods where they live and work, they're reminded that the toll this economy has taken on businesses affects their own lives. And yet some companies — faced with the same adverse headwinds — seem to rise to the challenge and go on to prosper as never before.
Why is that? And could there even be a lesson to be learned here if you're thinking of starting your own business as a result of either being unemployed or just plain fed up with your current job?
The "i-word" keeps popping up among experts as the answer to that question. "The whole engine that drives any economy is innovation," says Stephen Gnass, executive director of the National Congress of Inventor Organizations, a non-profit for inventors and inventor groups.
Take IBM, for example. It practically reinvented itself years ago — going from a stodgy seller of large, pricey computers to a global software and consulting giant — and just recently celebrated its 100th anniversary. And then there's the more under-the-radar case of New Jersey-based GAF.
North America's largest roofing and ventilation manufacturer is celebrating its own anniversary this year — 25 years longer in business than IBM, but who's counting? — and one way it got there is by coming up with unique answers to consumers' and businesses' desires to go green. In fact, it made quite a splash last summer when it teamed up with New York City's Department of Buildings to paint 1 million square feet of roofs white — GAF supplied the reflective paint for one of the many projects of the initiative, as well as materials and labor — as a way of cutting the city's energy costs.
To GAF's CEO, Bob Tafaro, that kind of nimbleness is key. "When you put customers first by ensuring that they get quality products and service, and when you keep your employees focused on innovation, you've got the formula for surviving long term and throughout even the toughest economic times."
The company's commitment to service and innovation has actually produced a number of "firsts," including: the first ready-to-lay asphalt roofing, the first to use color granules in roofing materials, and the first to offer a lifetime shingle warranty. And, oh yes, for those concerned about the outsourcing of American jobs, everything's made in America. For more information, visit www.GAF.com.
This article is copyright free. You are free to use it on a blog, website, in a newspaper, or newsletter.
To re-post this, copy the content above, or HTML on the right, and paste onto your site.