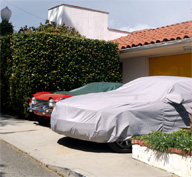 NewsUSA) – The economic recession continues, and many Americans plan on driving less to save on gas. What they don't know is that doing so can save them on more than just gas money.

According to a national survey that polled more than 5,000 drivers, 30 percent of drivers plan to drive less in the next year. However, 93 percent had never heard of pay-as-you-go auto insurance. After learning more about pay-as-you-go plans, 35 percent of drivers said that they would enroll if given the option.

What is pay-as-you-go auto insurance? It's an affordable insurance option that rewards people who drive less

For example, GMAC Insurance's Low-Mileage Discount, available in 35 states, offers personalized insurance discounts without compromising coverage. Eligible customers with active OnStar subscriptions can save up to 54 percent on their auto insurance premiums based on the number of miles driven. Using mileage-based insurance discount tiers, those who drive less than 15,000 miles annually are eligible for the Low-Mileage Discount.

Of course, driving less reaps many benefits. People who drive 15,000 miles or fewer per year save money on general transportation costs, like gasoline, maintenance and general wear and tear.

Drivers want to spend less time behind the wheel to save money and reduce their environmental impact, and pay-as-you-go insurance plans offer an extra incentive for doing so. According to the Brookings Institution, if every American driver had a pay-as-you-go insurance plan, nearly two out of every three households would receive an annual average discount of $270 per car.

The Federal Highway Administration reports that Americans have traveled 112 billion fewer miles in the past few months. It stands to reason that many Americans can save with pay-as-you-go auto insurance.

For more information, visit www.lowmileagediscount.com.
This article is copyright free. You are free to use it on a blog, website, in a newspaper, or newsletter.
To re-post this, copy the content above, or HTML on the right, and paste onto your site.