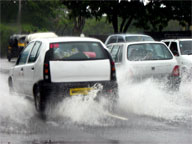 NewsUSA) – Spring showers bring May flowers, but they may also bring slippery driving conditions and decreased visibility. When it's wet, a braking car needs up to four times its regular stopping distance. Worn tires can cause cars to hydroplane, or skim over the road with little or no traction, which can lead to lost control. In honor of April's National Car Care Month, drivers should take a few minutes to prepare their cars for spring showers.

According to Firestone Complete Auto Care, proper tire maintenance is a relatively simple task and can help drivers stay safer on the road. The first step towoard proper tire maintenance is to check the tire pressure with an accurate tire gauge at least once a month. This should be done when the vehicle has been driven less than one mile or has been sitting for at least three hours. The recommended air pressure for a vehicle is listed on the sticker on the door jamb, fuel filler lid, glove box or trunk or in the owner's manual.

In addition to checking the inflation pressure, drivers should have their tires, including tread depth, inspected regularly by an ASE Certified automotive professional. Wheel alignment should be checked annually, and tires should be rotated every 5,000 miles or according to the vehicle's owner's manual. Proper wheel alignment and rotation will help tires roll more smoothly, which can increase traction, fuel mileage and tire life.

Don't wait for a rain storm to check your lights and wipers. Make a habit of checking both at regular intervals, when the weather is good — like when you fill up at the gas station. Seeing and being seen are critical anytime, but especially while driving in the rain. Functioning lights are important not only for your ability to see, they'll help other drivers see your vehicle. Windshield wipers should be replaced at the first signs of trouble, like streaking or noisy operation, in order to provide the best visibility while on the road.

Proper vehicle maintenance may increase traction and visibility during a rain storm, but good driving behaviors, like slowing down and using caution, are also very important. Although the rain will go away, it will come again another day — be prepared.

Trisha Hessinger is a former racecar driver and nationally recognized automotive education specialist for Firestone Complete Auto Care.
This article is copyright free. You are free to use it on a blog, website, in a newspaper, or newsletter.
To re-post this, copy the content above, or HTML on the right, and paste onto your site.