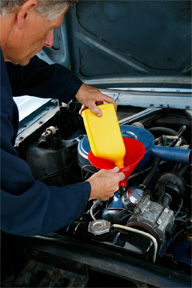 NewsUSA) – As the weather starts to get cooler, it may be time to think about changing your vehicle's motor oil.

Most automotive service providers recommend getting an oil and oil filter change every three months or 3,000 miles, or as directed in the vehicle's owner's manual. Although getting regular oil changes can seem like a hassle, they go a long way toward extending the life of a vehicle's engine.

According to experts at Firestone Complete Auto Care, a vehicle's engine contains many moving parts that rub together and cause friction. Motor oil lubricates the surfaces of these moving parts, reduces friction and cools the engine by carrying away heat. It also helps carry away debris from the engine and prevents corrosion.

Over time, oil gets dirty and loses its ability to stick to the metal components of the engine. If the oil and oil filter are not changed regularly, the debris, heat and friction can cause severe engine damage, requiring repairs that can cost several thousand dollars.

Oil comes in a variety of grades and weights (or viscosities). To fully protect your engine, maintain your vehicle manufacturer's warranty and optimize performance, be sure to follow the recommendations in your vehicle owner's manual.

Regular oil and oil filter changes can help extend the life of your vehicle and maintain its performance. Let the changing seasons be a reminder that it may be time to change your oil.
This article is copyright free. You are free to use it on a blog, website, in a newspaper, or newsletter.
To re-post this, copy the content above, or HTML on the right, and paste onto your site.