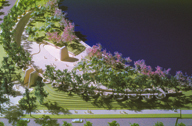 NewsUSA) – During the 1963 March on Washington, Martin Luther King, Jr. stood on the steps of the Lincoln Memorial and delivered what would become his most famous public words. King's "I Have a Dream" speech left an indelible imprint on hundreds of thousands of civil rights demonstrators that day and would continue to do so for generations to come. Now, more than 45 years after King's inspirational words rang through the crowd of more than 200,000 people, plans for King's legacy to be immortalized in a large-scale memorial are fast becoming a reality.

In early 2008, construction will commence at the site of the the Martin Luther King, Jr. National Memorial, a four-acre plot located on the National Mall in Washington, D.C. For the past 10 years, the Washington, DC Martin Luther King, Jr. National Memorial Project Foundation has led this historic effort, taking the helm after it was conceived more than two decades ago. Throughout this time span, the Foundation has remained committed to King's legacy, virtues and humanity for all people -; regardless of race, color or creed.

"This year we will see the culmination of a decade's worth of work," said Harry E. Johnson, Sr., president and CEO of the MLK National Memorial Project Foundation. "We enthusiastically anticipate reaching a number of key milestones that will bring the national MLK Memorial one step closer to taking its permanent residence on the National Mall in our nation's capital."

The MLK Memorial will be situated adjacent to the FDR Memorial, directly between the Lincoln and Jefferson Memorials. The centerpiece of the MLK Memorial is the "Stone of Hope," a three-story statue of King that emerges from a stone wall of granite. A grove of cherry trees will also encompass the landmark to underscore themes of justice, love and hope.

"To date, we have raised nearly $90 million for the MLK National Memorial Project -; but we are still working tirelessly to meet the $100-million goal required to actually build and maintain the memorial," Johnson said.

For more information on the Washington, DC Martin Luther King, Jr. National Memorial Project, or to find out how to contribute, visit www.BuildtheDream.org or call 1-888-4-THE-DREAM.
This article is copyright free. You are free to use it on a blog, website, in a newspaper, or newsletter.
To re-post this, copy the content above, or HTML on the right, and paste onto your site.